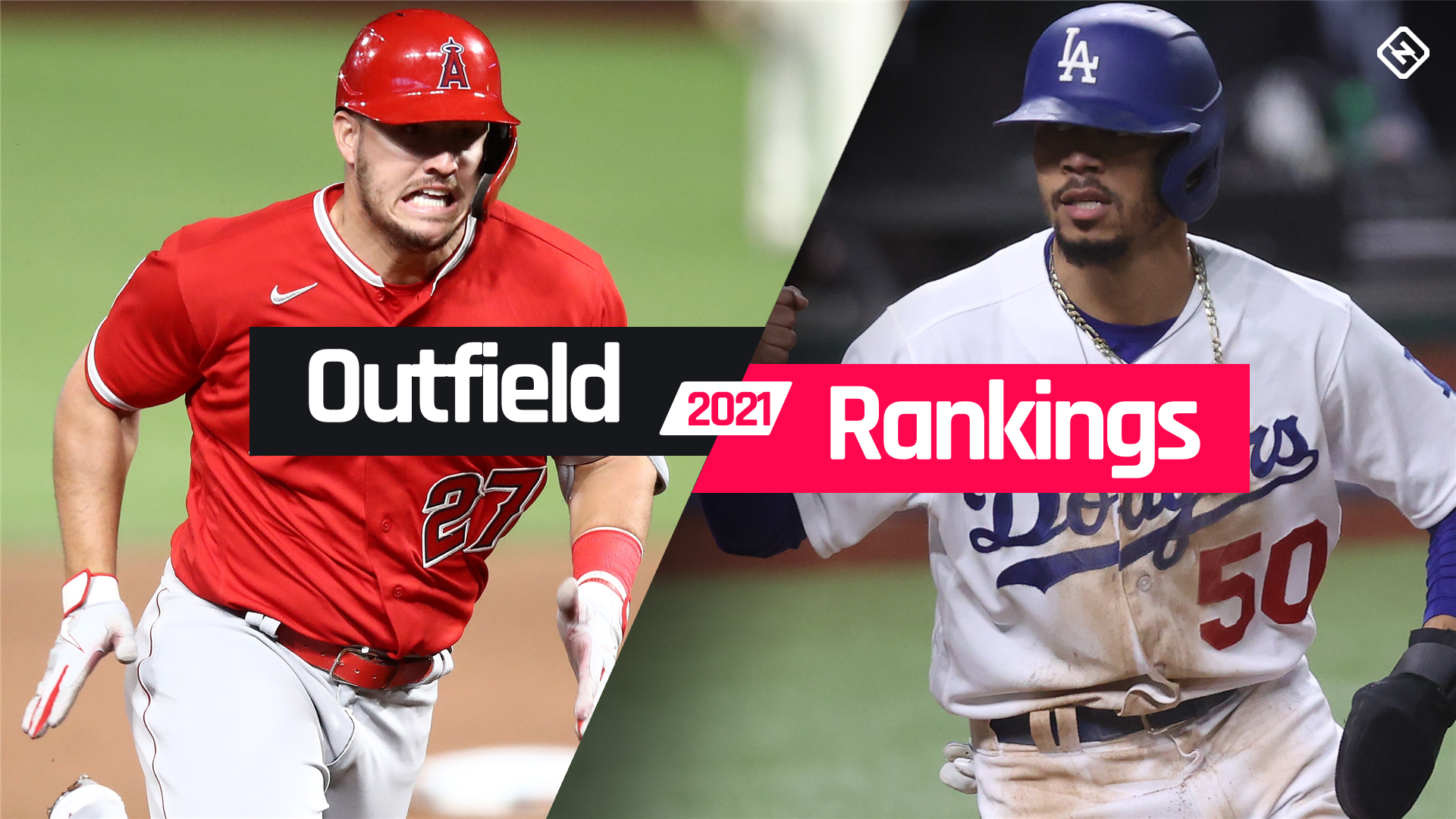 The outfield is once again one of the deepest positions in fantasy baseball. There is no shortage of top tier stars and tricky sleepers, and you really don't need any sort of draft strategy when it comes to this situation. There are outfitters worth starting in the early, mid-round and late outfield, and you can find power hitters, power-speed contributors, and high-average guys. Because of this, our OF ranking should not be seen as a strict guide to drafting, as after the first 10–15 players your choice will eventually come down to the needs of the category.
The top five outfielder in our rankings will likely come off the board in the first round. From there, it is anyone's guess as to how things will play out. Personal preference will play a big role in the order in which players are drafted. We rank some young players like Trent Grisham higher than most sites, and we also have a greater fondness for big-time sluggers like George Soler and Joey Gallo. Your draft strategy may push you towards higher-average, more versatile players instead. As we said in the introduction, this is completely fine, but it can make a wild difference in our rankings and your big board.
Just how it goes in this situation, but the one thing that we would caution against is very much dependent on last year's figures when your rankings would be put together. We all know that last year was a strange one, and there were a lot of hitters who struggle unceremoniously in their limited action. If they suffer from a single injury due to lack of games, this could greatly reduce their final stat line. Conversely, we have seen that players do not have a good 60 games before falling in the final 100 matches. Players did not have a chance to fall last year, making it appear that they are / are better than they really are.
This is obviously true for everyone, but with the outfield being the deepest offensive position, there are more examples. Also, even in three-off leagues, it's easy to fall back to an OFF when you can't find players you like in other positions, which often leads to overdraft outfielders . When you can't necessarily prepare for specific situations, you can constantly remind yourself to be more focused than last year and what statistics you need. This will help you put together the most complete, well-rounded outfield and should avoid overdrafting of a potential bust.
We are updating rankings throughout the spring, so check back for the latest player movement. Please note that these rankings are compiled as are all players In college Are eligible for. Some players, such as White Merrifield or Kettle Mart, may be ranked higher due to their multi-position eligibility.
Ranking of Fantasy Baseball: Outfield Tears, Sleepers, Draft Strategy
Rankings based on 5×5 H2H leagues are in the form of a hitting category with rupees, HRs, RBIs, SBs and batting averages.
Eligibility based on position Yahoo's default settings
* * The player is not eligible in any position on the day of the draft but is expected to play there during the season.
| | | | | | |
| --- | --- | --- | --- | --- | --- |
| Post | Player (bats) | Age (as of 4/1) | Team | Other posts | Tier |
| 1 | Juan Soto (L) | 22 | The citizens | – | 1 |
| 2 | Ronald Acuna Jr. (R) | 23 | Braves | – | 1 |
| 3 | Mookie Bates (R) | 2. | Dodgers | – | 1 |
| 4 | Christian Yelich (L) | 29 | Brewers | – | 1 |
| 5 | Mike Trout (R) | 29 | Angels | – | 1 |
| 4 | Cody Belinger (L) | 25 | Dodgers | 1b | 2 |
| . | Bryce Harper (L) | 2. | Palis | – | 2 |
| . | Louis Robert (R) | 23 | White sox | – | 2 |
| 4 | Kyle Tucker (L) | 24 | Astros | – | 2 |
| 10 | Trent Grisham (L) | 24 | Padres | – | 2 |
| 1 1 | Aaron Judge (R) | 2. | Yankees | – | 2 |
| 12 | George Springer (R) | 31 | Neelkanth | – | 2 |
| 13 | Alloy Jimenez (R) | 24 | White sox | – | 2 |
| 14 | JD Martinez (R) | 33 | red Sox | – | 2 |
| 15 | Marcel Ozuna (R) | 30 | Braves | – | 2 |
| 14 | Yordan Alvarez (L) | 23 | Astros | – | 2 |
| 1. | George Soler (R) | 29 | Royal Family | – | 2 |
| 1. | Charlie Blakeman (L) | 34 | Of rocks | – | 2 |
| 19 | Joey Gallo (L) | 2. | Ranger people | – | 3 |
| 20 | White Merrifield (R) | 32 | Royal Family | 2b | 3 |
| 21 | Sterling Mart (R) | 32 | Marlins | – | 3 |
| 22 | Fremill Reyes (R) | 25 | Indians | – | 3 |
| 23 | Nick Castellanos (R) | 29 | The reds | – | 3 |
| 24 | Michael Conforto (L) | 2. | Mets | – | 3 |
| 25 | Giancarlo Stanton (R) | 31 | Yankees | – | 3 |
| 24 | AJ Pollock (L) | 33 | Dodgers | – | 3 |
| 2. | Kyle Lewis (R) | 25 | Mariners | – | 3 |
| 2. | Eddie Rosario (L) | 29 | Indians | – | 3 |
| 29 | Brandon Lowe (L) | 24 | Rays | 1b, 2b | 3 |
| 30 | Lourdes Gurrill Jr. (R) | 2. | Neelkanth | 2b | 3 |
| 31 | Randy Ajorna (R) | 24 | Rays | – | 4 |
| 32 | Mike Yastrzemski (L) | 30 | The giants | – | 4 |
| 33 | Austin Meadows (L) | 25 | Rays | – | 4 |
| 34 | Victor Robbles (R) | 23 | The citizens | – | 4 |
| 35 | Tommy Pham (R) | 33 | Padres | – | 4 |
| 37 | Will Myers (R) | 30 | Padres | 1b | 4 |
| 3. | Cavan Bigigo (L) | 25 | Neelkanth | 2b, 3b | 4 |
| 38 | Byron Buxton (R) | 2. | Twins | – | 4 |
| 39 | Nick Senzel (R) | 25 | The reds | – | 4 |
| 40 | Chris Bryant (R) | 29 | The cub | 3b | 4 |
| 41 | Kettle Mart (S) | 2. | De-back | 2b, ss | 4 |
| 42 | Michael Brentley (L) | 33 | Astros | – | 4 |
| 43 | Jeff McNeill (L) | 2. | Mets | 2b, 3b | 4 |
| 4 | ian Happ (S) | 24 | The cub | 2b, 3b | 4 |
| 45 | Trey Mencini (R) | 29 | Orioles | 1b | 5 |
| 4 | Max Kepler (L) | 2. | Twins | – | 5 |
| ४ 47 | Ryan Mountcastle (R) | 24 | Orioles | 1b | 5 |
| ४ 48 | Dominic Smith (L) | 25 | Mets | 1b | 5 |
| ४ ९ | Anthony Santander (S) | 24 | Orioles | – | 5 |
| 50 | Taosar Hernandez (R) | 2. | Neelkanth | – | 5 |
| 51 | Nick Solak (R) | 25 | Ranger people | 2b, 3b | 5 |
| 52 | Dylan Moore (R) | 2. | Mariners | 2B, 3B, SS | 5 |
| 53 | Austin Riley (R) | 23 | Braves | 3b | 5 |
| 58 | JD Davis (R) | 2. | Mets | 3b | 5 |
| 55 | Hunter Renfro (R) | 29 | red Sox | – | 5 |
| 56 | Kyle Schwarber (L) | 2. | The citizens | – | 5 |
| 5 57 | Jock Pedersen (L) | 2. | The cub | 1b | 5 |
| 5 58 | Clint Frazier (R) | 24 | Yankees | – | 5 |
| 59 | Aaron Hicks (S) | 31 | Yankees | – | 5 |
| 40 | Alex Verdugo (L) | 24 | red Sox | – | 5 |
| 41 | Ramon Loreno (R) | 24 | As | – | 5 |
| 42 | Leodi Tavarus (S) | 22 | Ranger people | – | 5 |
| 63 | Cole Kolhon (L) | 33 | De-back | – | 4 |
| 64 | Randall Grichuk (R) | 29 | Neelkanth | – | 4 |
| 45 | Mitch Haniger (R) | 30 | Mariners | – | 4 |
| 66 | Corey Dickerson (R) | 31 | Marlins | – | 4 |
| ६ 67 | Andrew McCutchen (R) | 34 | Phillies | – | 4 |
| ६ 68 | Andrew Benintendi (L) | 24 | Royal Family | – | 4 |
| 69. is | Jessie Winker (L) | 2. | The reds | – | 4 |
| 70 | Justin Upton (R) | 33 | Angels | – | 4 |
| 71 | Willie Calhoun (L) | 24 | Ranger people | – | 4 |
| .2 | Victor Reyes (S) | 24 | Tigers | – | 4 |
| 73 | Tommy Edman (S) | 25 | Cardinals | 3B, SS, OF | 4 |
| 74 | Manuel Margot (R) | 24 | Rays | – | 4 |
| 75 | Garrett Hampson (R) | 24 | Of rocks | 2b, ss | 4 |
| 76 | Brandon Belt (L) | 32 | The giants | 1b | 4 |
| 77 | Hunter Dozier (R) | 29 | Royal Family | 1b, 3b | 4 |
| 78 | Dylan Carlson (S) | 22 | Cardinals | – | 4 |
| . 4 | Austin Hays (R) | 25 | Orioles | – | 4 |
| 80 | Adam Eaton (L) | 32 | White sox | – | 4 |
| 81 | Lorenzo Caine (R) | 34 | Brewers | – | 4 |
| .2 | Rimel Tapia (L) | 2. | Of rocks | – | . |
| 83 | Gregory Polanco (L) | 29 | Pirates | – | . |
| .४ | Avicel Garcia (R) | 29 | Brewers | – | . |
| 85 | David Peralta (L) | 33 | De-back | – | . |
| 86. is | David Dahl (L) | 2. | Ranger people | – | . |
| 87 | Mark Kanha (R) | 32 | As | 1b | . |
| 88 | Brandon Nimmo (L) | 2. | Mets | – | . |
| 89. is | Brian Anderson (R) | 2. | Marlins | 3b | . |
| 90 | Sam Hilliard (L) | 2. | Of rocks | – | . |
| 91 | Stephen Piscotty (R) | 30 | As | – | . |
| 92 | Brian Reynolds (S) | 24 | Pirates | – | . |
| 93 | John Bertie (R) | 30 | Marlines | 2B, 3B, SS | . |
| 94 | Garrett Cooper (R) | 30 | Marlins | 1b | . |
| 95 | Chris Taylor (R) | 30 | Dodgers | 2b, ss | . |
| 96 | Aristide Aquino (R) | 24 | The reds | – | . |
| 97 | Jason Hayward (L) | 31 | The cub | – | . |
| 98 | Kevin Kiermaier (L) | 30 | Rays | – | . |
| 4 | Harrison Bader (R) | 24 | Cardinals | – | . |
| 100 | D Strange-Gordon (L) | 32 | The reds | 2B, SS * | . |
| 101 | Oscar Mercado (R) | 24 | Indians | – | . |
| 102 | Dolton Warshaw (L) | 24 | De-back | C | . |
| 103 | Joe Adele (R) | 21 | Angels | – | . |
| 104 | Yoshi Satsugo (L) | 29 | Rays | 3b | . |
| 105 | Josh Nailer (L) | 23 | Indians | – | . |
| 106 | Jarred Kellenic (L) | 21 | Mariners | – | . |
| 107 | Cedric Mullins (S) | 24 | Orioles | – | 4 |
| 10 108 | Alex Kiriloff (L) | 23 | Twins | – | 4 |
| 109 | Alex Dickerson (L) | 30 | The giants | – | 4 |
| Is 110 | Christian Pache (R) | 22 | Braves | – | 4 |
| 111 | Jurikasan Profar (S) | 2. | Padres | 2b | 4 |
| 112 | Scott Kingery (R) | 24 | Phillies | 2b | 4 |
| 113 | Tyler O'Neill (R) | 25 | Cardinals | – | 4 |
| 114 | Roman Quinn (S) | 2. | Phillies | – | 4 |
| 115 | Michael Chavis (R) | 25 | red Sox | 1b, 2b | 4 |
| 116 | Mauricio Dubon (R) | 24 | The giants | 2b, ss | 4 |
| 117 | Miles Straw (R) | 24 | Astros | – | 4 |
| 11 118 | Shogo Akiyama (L) | 32 | The reds | – | 4 |
| 119 | Robbie Grossman (S) | 31 | Tigers | – | 4 |
| 120 | Jake Fraley (L) | 25 | Mariners | – | 4 |